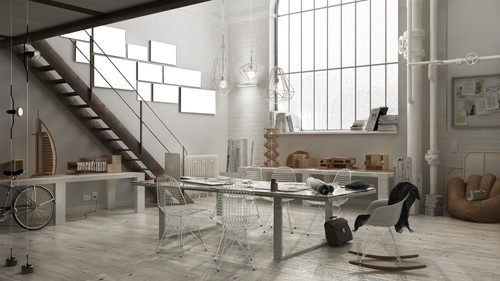 Photo by Archi_Viz via Shutterstock
Many urban areas promote the concept of working where you live, or living where you work, to simplify your life. But what does that mean when you're buying real estate?
The main difference is in zoning requirements and building codes. Those that are primarily zoned as residential offer fewer options for commercial enterprises. Those zoned for industry often appear in areas of urban renewal where former warehouse conversions offer work-spaces and lifestyle lofts.
When historic buildings go through the renewal process, they are often repurposed as living space with attached retail. For example, creating occupancy areas that otherwise would decay into disuse sometimes allows for relaxed residential standards that let artists and musicians enjoy higher sound levels or use of solvents that new construction zoning and code requirements would not allow.
Who Occupies Live-Work Properties?
Often, communities of artists or musicians join forces to live in joint, workspace facilities. Some urban centers have created "Artists' Projection Zones" that impose rent controls, property price-increase limitations and other restrictions to create affordable living and working space for artists. These locales determine occupancy based on adherence to specific rules of their artistic endeavors.
Other live-work spaces appeal to business start-ups and entrepreneurs. These spaces develop an incubator atmosphere where the lack of commute inhibits the interruption of ideal flow. Some interdependent industries share the same space to reduce the need to ship product or services outside the facility.
Telecommuters and virtual employees fit better into the residential live-work facilities. Often, these buildings offer high-speed internet, access to shipping and delivery services and community spaces to gather for a meal or socializing.
Whether it's a studio above a store-front, converted warehouse, or repurposed factory, if you thrive in an energetic and industrious atmosphere, a life-work space may be right for you. When seeking a live-work space, let your real estate agent know what you're looking for so that you find that perfect situation.