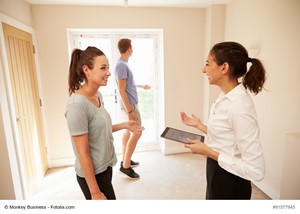 All house buyers have different pet peeves when it comes to evaluating homes, but there are a lot of easy fixes you can do to reduce the chances of losing a sale. Here are a few tips to keep in mind.
Squeaky doors: Lubricating squeaky hinges is one of the easiest things you can do to improve your chances of making a positive impression on prospective home buyers. A seemingly small thing like squeaky door hinges can make your house seem old, poorly maintained, and in disrepair. A squeaky door hinge is probably not going to make or break the sale of your house, but in combination with other little flaws that prospects might notice, it could have a major impact.
Weeds cropping up: Another clear signal to prospects that your property hasn't been properly maintained — at least in their minds — is the existence of weeds. Other than an overgrown lawn, nothing detracts from curb appeal more than weeds coming up everywhere, especially in driveway cracks, walkways, and front steps. If your home is on the market or you're considering selling it in the near future, getting rid of noticeable weeds will help improve your property's curb appeal and make a better impression on prospective buyers. If you hate the idea of handling or applying commercial weed killers, non-toxic household items like vinegar or salt have been known to nip the weed problem in the bud. Whether you use store-bought herbicides or natural remedies, make sure you don't damage any nearby plants that you want to protect. In some cases, manually pulling out weeds and carefully digging out the roots is the most risk-free approach, although it's also the most labor intensive!
Dust and cobwebs: No matter how thorough you think you've been in cleaning your house, you're probably going to miss a few spots that prospective buyers will notice. In small amounts, a little dust is not going to make or break your sale, but like squeaky door hinges, small problems add up! Areas that homeowners and house cleaners often overlook include baseboards, ceiling fans, and corners of ceilings.
Unpleasant odors: If your house smells like pets, mold, or mothballs, that sometimes can be a deal breaker. Bad odors are a major sensory turnoff that could easily sour people on the idea of making an offer on your house. Musty odors are often indicative of a larger problem, such as a damp basement, leaky pipes, water damage, or mold infestation. Eliminating odors prior to having your house shown can be as simple as doing a thorough cleaning, or as complex and expensive as hiring a mold remediation service.
The good news about preparing your home for sale is that a seasoned real estate agent can provide you with the advice, guidance, and help you need to maximize your chances for attracting offers and selling your property for its full market value.